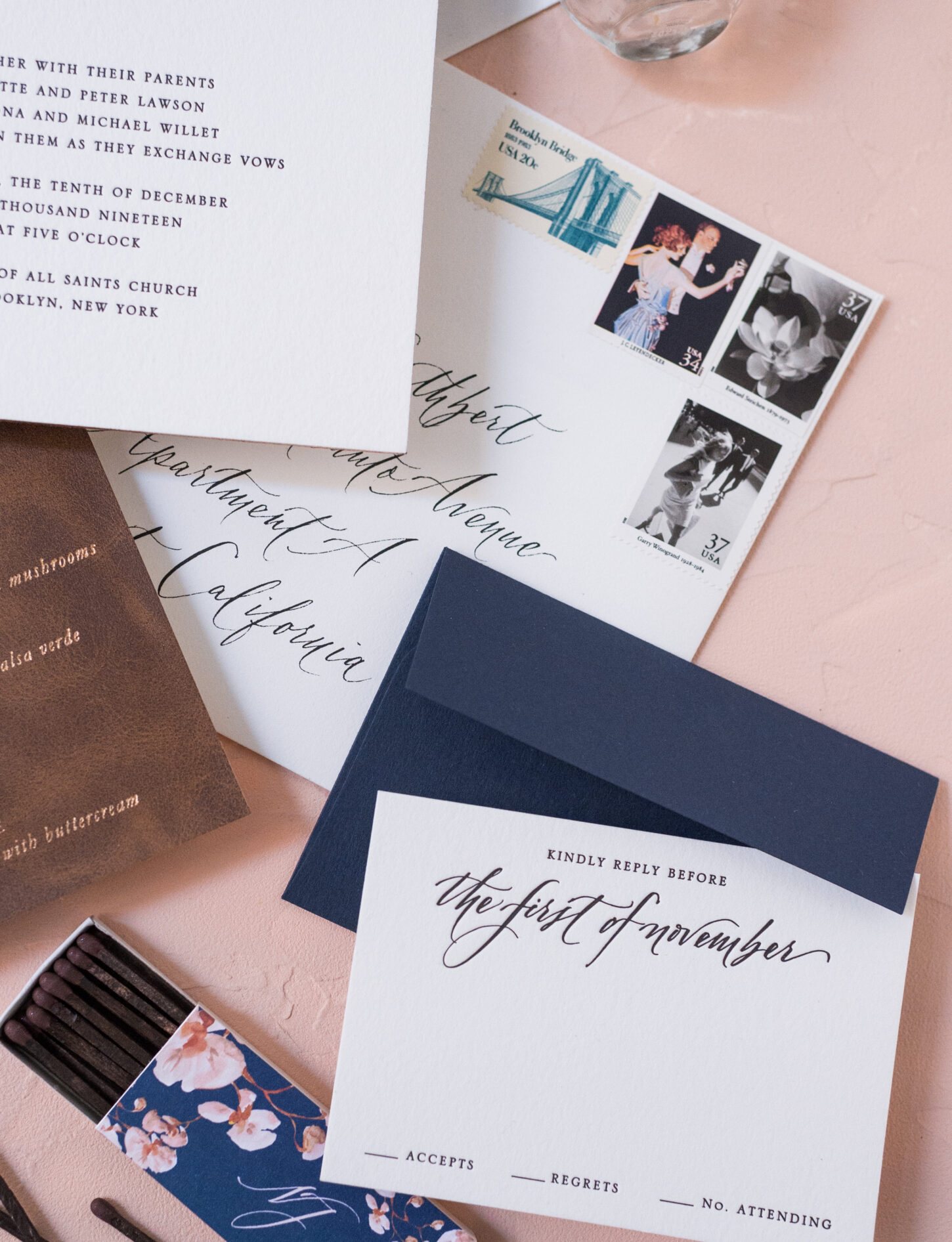 Scouring the internet for vintage postage can be daunting. You check the Postal Service website and there's too many options that don't fit, at all! Not sure if Sesame Street is the vibe you're trying to go for? Introducing, vintage postage stamps!
From butterflies, florals, and fauna to historical events, figures, and inventions! Most of the time you can find anything your heart desires, but you have to put the work in, and there are a few things you'll need to know before you get started.
Postage Rates
Your wedding suite can vary in weight, which calls for different rates of postage. It all depends on how many pieces are included in your suite, what size each piece is, and the paper weights. To get the most accurate weight, take your suite to the post office. Once you're there, you can ask a post office employee to weigh it, and tell you how much postage is needed for both domestic and international guests.

You'll likely need no less than $1.30 in postage for your wedding suite. For international mailing, it varies, but you'll need around $4.35 for these.

Save the Dates are usually just once piece, and will need between 55¢ ~ 70¢ per envelope. You can always add more postage — if you have 55¢ stamps but need 70¢ for you envelope, you can just add two 55¢ stamps. As long as you're covering the base cost, you can add as much postage as your heart desires!

Vintage stamps are rarer and out of print – what's been printed is all that exists! That means they vary in cost and supply. If you're using vintage stamps for your wedding invitations, we've found that the price per envelope averages around $5.50, compared to the $1.30 for contemporary stamps.

Vintage stamps often come in smaller values than contemporary. You'll want to keep this in mind when sourcing, so you don't end up with something like 26 5¢ stamps per envelope. On average, the suites we put together have between 3 and 6 stamps per envelope. You may add as many as you want, so long as there is space for addressing.
PRO-TIP #1: Forever stamps are currently 55¢, and Two Ounce stamps are 70¢. Use these to eliminate smaller value vintage stamps, if they work with your aesthetic.
PRO-TIP #2: Sometimes suppliers don't have quite enough stamps for all 150 or so envelopes, but fear not! Mixing and matching can be a great idea. Most stamps come in sets, so you're likely to find different stamps from the same set.
---
Sourcing Your Stamps
Finding the perfect stamp suppliers can be tricky, and a lot of the time you'll be buying from different sources. Amazon has a few, but the real deal vintage stamps are found in places like Etsy. You'll want to make sure the stamps you're buying are unused or "unhinged", which means they've never been cancelled/marked by the post office. If you see "MNH," it means "mint never hinged". Basically you just want to make sure the stamps have never been used before.
Your stamp layout can go in a few different directions: matching the color palette and theme of your suite, or it can be completely personal and unique to the envelope. We suggest looking at your options first to get a sense of what's available.
PRO-TIP #3: If your envelopes are being hand-calligraphed, you'll want to let them know that you're using vintage stamps. This way, they will make sure to leave you enough room.
Adhering Your Stamps
Before you start adhering your stamps, make sure the placement and layout of your stamps looks good. Once these go on, they won't come off without leaving marks or damaging the stamps. Once you're happy with how they look, you can use an envelope moistener or a glue stick to adhere. Most vintage stamps are not peel-and-stick, so you'll have to moisten to stick. You can just use your tongue, but this is at your own discretion. The older the stamps, the longer they've been around. There's no telling where they've been!
Now, onto our favorite stamps we've put together!
Florals and Fruits
---
This suite was definitely a favorite. We combined contemporary calligraphy with soft greys and minimal floral illustrations. Our bride wanted to add some color to the envelope. We were fond of these florals, taking into account the style of each stamp to look cohesive. The contemporary "Winter Berries" forever stamp helps push the postage towards $1.30.

Tropical Vibes
---
For these stamps, we aimed to tie into the palette of the overall suite: greens, oranges, and pinks. The bride-to-be had an obsession with old Audrey Hepburn films, and the groom was born and raised in California. Once we found these two stamps, we built around them to create a perfectly balanced layout.
By the Beach
---
Destination weddings can be really fun when it comes to sourcing stamps. There's plenty of stamps highlighting states or scenery that can tie a suite together. Take for instance this wedding by the beach. We wanted to stay in a blue and orange palette, to tie in with the envelope liner and artwork from the Save the Date. The groom was also a writer, so we threw in a Jack London stamp that went perfectly with the palette.
Black and White Modern
---
Black and white stamps create quite an impact, and there are lots of options to choose from. This is one of my favorite suites, and shows how stamps can be fun and give your envelope so much character. Who doesn't want to open up their mailbox and see Elvis?
Black and White Historical
---
We absolutely loved the calligraphy used within this suite, and wanted to stick with an old-world look when it came to the vintage stamps, so we kept in a palette of black, white, and reds.
New York Romantic
---
For this suite, we mixed black and white photography with painting and architecture. This mix pulls out the balance of feminine and masculine within the suite.
Mixing Custom and Vintage
---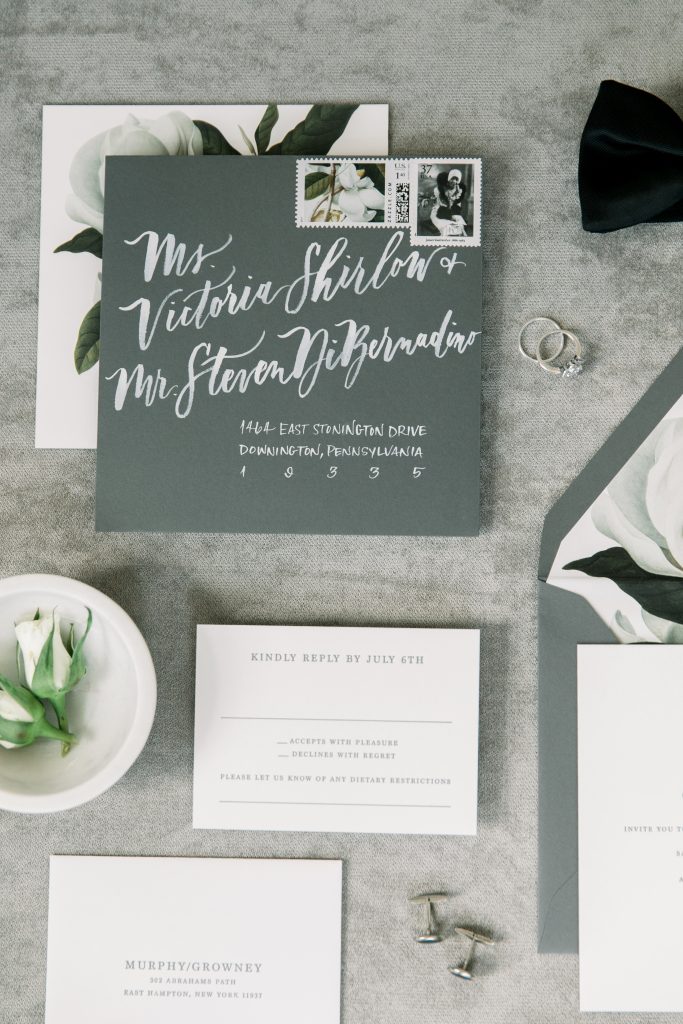 You can always mix vintage and custom to create a super unique presentation! You'll just need to make sure they are going to look good next to one another. For example, we took a cropped section of the couple's envelope liner, a vintage botanical, to create their stamp. Then we paired it with a vintage photography stamp. The key is that they're similar in size and color, so the barcode on the custom stamp doesn't stick out too much.
---